"Modeling Furniture" by Packt Publishing
3Dtutorials.sk recommendation:
To maximise the realism of your 3D furniture we recommend using high quality photo references from the #1 texture website www.environment-textures.com
As furniture is a key element, every item of furniture that we add to the scene increases the level of detail, and the sense of realism. We can classify furniture into two : internal and external furniture.
With the first type, we have all the objects that populate our interior scenes such as sofas, beds, and chairs. The second type refers to items of urban furniture such as cars, fountains, and fences.
This kind of modeling deals with smaller scales, and because of this, sometimes, we have to work at a more detailed level than we are used to. This can cause the modeling process to take a bit longer than usual, but only if we need to create a good level of detail for our models. In this type of modeling, we will use the concept of level of detail again. We discussed this at the beginning of Chapter 5.
As we mentioned in Chapter 5, to use the concept of level of detail effectively, we must begin our projects with good planning. Otherwise, it will be useless to do any kind of optimization without knowing, for example, where the cameras will be.
Another interesting thing about furniture is that we can keep the models that we create to build a good library. With a good 3D models library, we can easily add previously created furniture into new projects, decreasing the time needed to fill up the scene with furniture.
We even can download or buy models on the Internet. The only thing that we will have to do in this case is import the model into our scene.
Create Models or Use a Library?
There are two possibilities when working with furniture. We can create new furniture, or use pre-made models from a library. The question is: when must we use each type? Some people say that using a pre-made model is not very professional thing but what they forget to say is that most projects have a tight deadline, and we need a quick modeling process to be ready on time. So, what's most important for professionals? Getting things done, or telling the client that all the models were created just for his project?
Of course, the deadline is the most important, and your clients normally won't mind if you use pre-made models. Probably they won't even notice. So don't be ashamed to use pre-made models they won't make your projects any less professional. It's even recommended to use these models to speed-up the process, and allow you to spend more time on lighting or texturing.
Is there any situation that demands the creation of a furniture model from scratch? Well, there are some. First, if you can't find the model in any library that you know, then it's going to be necessary to create it from scratch.
If you are working with an architect who designs the spaces and furniture as well, you will probably have to model the furniture too, since it won't be available at any public library. Any project that deals with customized furniture will require that we work on the modeling for the furniture.
Tip: Create your own library A good practice for anyone doing architectural visualization is to collect a lot of 3D models from public libraries for use in future projects. Keep these models for later, but don't forget to check if the author has released the models with no restrictions for commercial use. Otherwise, you must get their permission to use them. If you want to create your library, with no restrictions, why not create your own models? This could be a good exercise: take a few examples, and start creating some furniture. With time, you will have a good number of models.
How to Get Started?
In most cases, we have to get used to all that furniture modeling. We will have to start from scratch, with no blueprints available. The only references that we will have would be the photos, either provided by our clients, or provided from some web resources.
If you have the time, visit a real store, and take some pictures and measures on your own. Sometimes, these stores will give you fliers and brochures, especially if you work with architecture. With time, you will get a lot of good reference material, and some of them come with measurements.
But, if you don't know where to get started, let me point out some great web resources:
• http://www.e-interiors.net
• http://resources.blogoscopia.com
• http://blender-archi.tuxfamily.org/Models
• http://www.katorlegaz.com/
• http://sketchup.google.com/3dwarehouse
The first link has a lot of reference images classified by furniture type and designer. And sometimes, they even provide free 3D models. Most models there are saved in DXF, or 3DS file formats.
Appending Models
Before we start to model, let's see how we can import a model form an external library into Blender. The process is very simple, and what we have to do is to use the File menu, and access the Append or Link option. There is a shortcut for that too – just press SHIFT+F1 to call the same function.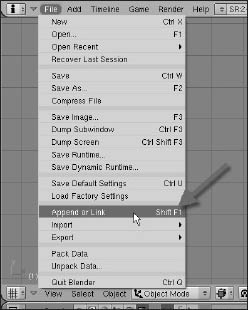 With this option, we have to select file that is already in the Blender file format. This option won't import files in other formats. When we select a file, a list of elements available in that particular file will be displayed, for us to select what we want to import. In most cases, the models will be stored under Object.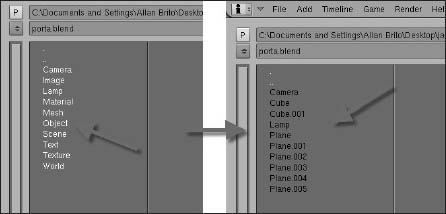 When we click the Object option, all of the objects available in the file will be listed. If you know the name of the object that you want to import, just select the name, and click Load Library. The object will be loaded into our scene. Молоденькие сучки после того, как отводят своих детей в сад, любят пошалить с мужем или любовником. Смотри, как любят порно молодые мамки https://мамка.org/young – по ссылке. Девушки садятся гладким писечками на лицо своим мужьям и угощают их своей вагинальной смазкой. Затем они раздвигают ножки и получают удовольствие от ебли.
Here, we have two options to handle this object: Append or Link:
• Append: If we choose this option, the object will be merged into our current scene.
• Link: With this option, an external link to the object file will be created. Any modifications to the original file will be reflected in our current scene.
What is the best method to use? It will depend on whether we are willing to track all modifications applied to our furniture models. Using the Link method is a great way of keeping the furniture updated, because every modification at the original file is reflected immediately in the scene in which this model is placed. However, we will have to take the original file with the scene file every time we need to put our scene on another computer. They always have to go together.
But if you choose to use the Append option, things will be a bit simpler, because the object will be incorporated into the scene file. We won't have to be worried about moving the furniture file along with the scene.
Always use the Append option when you want to use furniture, or any other model, saved in another Blender file. To use a furniture model saved in another file, with a type other than ".blend", we have to use the Import option.