"Making of Schwerin Theater " by Mohammad Saatchi
Part 1: Modeling
Hello. I'm Mohammad Saatchi, Freelancer architectural visualizer. When I am seeking for some classical buildings, find one which was simple in first view but have many details. I see it as very beautiful and great so decide try to reconstruct it. It's the "Schwerin Theater" that established in east north of Germany in Schwerin city.
3Dtutorials.sk recommendation:
To maximise the realism of your models and textures we recommend using high quality photo textures from the #1 texture website www.environment-textures.com

The theater photo. It stablished in Schwerin, Germay.


Problems:
I have just three photo of the building and all of those are very far so details aren't visible.
Photos aren't in good view and have angle.
I haven't photo from side of the building.
My all useful available references…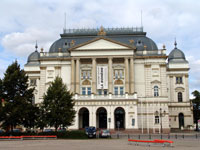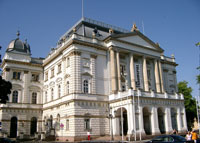 Let's Start:
Ok, I am using Autodesk 3dsmax version 9 for modeling. I will use default unit setup for this project because I want make it with my eyes so unit isn't important. Start of the project was hard part because other part's sizes related to it so if I make mistake in relations, the building will lose! In this project I will confident on my eyes. I start from front part – entrance columns. Start with create simple box and convert it to Editable Poly. Then use extrude, bevel, move, rotate, scale…. to make it. For Arc, Just create shape (Spline + Arc) and extrude it.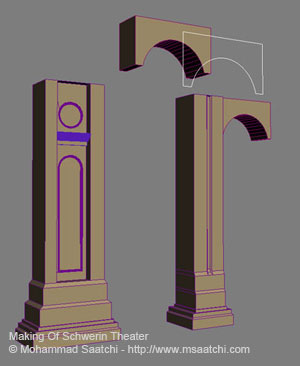 I decide to start from front part and entrance columns. For this I create simple box and convert it to Editable Poly. Most of the part make by this way "Box Modeling". As I said, I have confidence to my eyes and use any camera match software or plug-in. When I finish this part, make many changes in parts sizes to make better and better relation.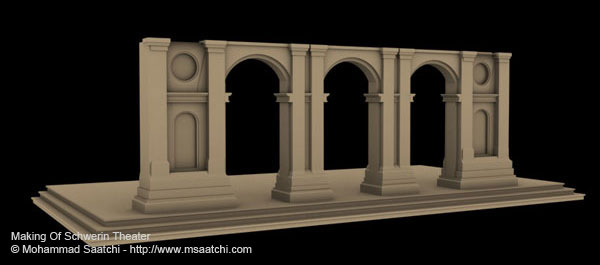 This part finish, hmmm, really was hard not in modeling, in relations. It could be better but I'm fine with it for now. I'm so interested to work in details and don't like to use displacements and textures in my project to show object's details but I'm not pernickety about. I first try to finish my model with low details and then work on details if it is required. I continue to complete front part at first. It helps me to define the building height too. There wasn't bad problem and all things done well. For wall, I use simple box and convert it to Editable Poly, then for details, use cut, extrude and scale. Columns base are cylinder. For barrier simply use lathe.