"Clothing for Makehuman" by Dave Jarvis This tutorial shows how to put clothes on a human character. You must have already installed:
Makehuman
Blender version 2.43
Makehuman
After loading Makehuman, you should see the following: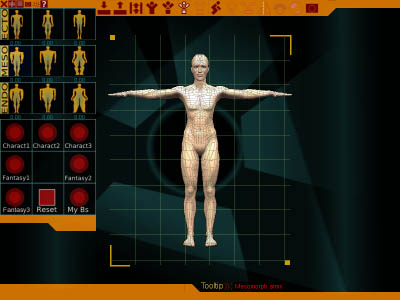 Makehuman Opening Screen
Click the pose icon
.
Click a body joint (left-hand side of the screen).
Click and drag the LMB (either left or right) while hovering over a rotation icon (right-hand side of the screen).
Lindy Hop pose: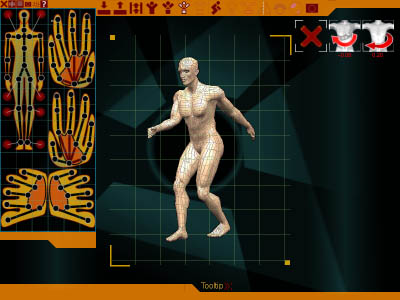 Leading a Swing-out
5. Click the Export icon

to save the pose to an .obj file.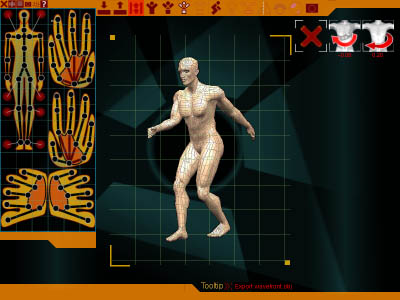 Export the Swing-out Pose
6. Provide a filename (e.g., pose-01.obj), then press Enter.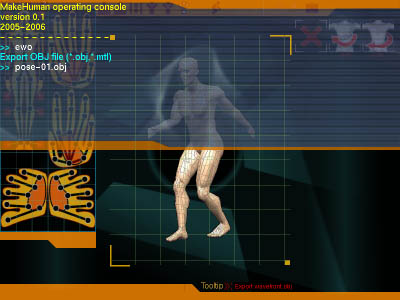 Save the Pose
7. Press ESC to close the window.
If you want to change the pose with Makehuman later, save it as a Body setting file (as well as exporting it as a Wavefront object for Blender).
8. Press ESC again to quit Makehuman.
Import into Blender
Press CTRL-X then Enter to create a new model.
Press Del then Enter to remove the box.
Press NUM1 to change the view.
Click File » Import » Wavefront (.obj)…
Find and select the pose file (e.g., pose-01.obj)
Click OK to import the object model.
Press NUM0 then r then x then 90 then Enter to rotate the model.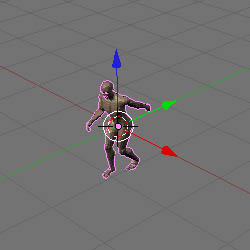 Unclothed Makehuman model