"Mazda Furai " by Dariusz M¹kowski
Before I will move to post production it is worth mentioning that my final out put came up with Material ID pass. Every different materials on this car have their own material ID number, I did that because later on in postproduction I want to have full control over all the car parts and image. Thanks to that we can do an animation and keep great post produced look. 🙂
Moving on to post production. This part is very important because we have to get all the colour, saturation and brightness to the right level.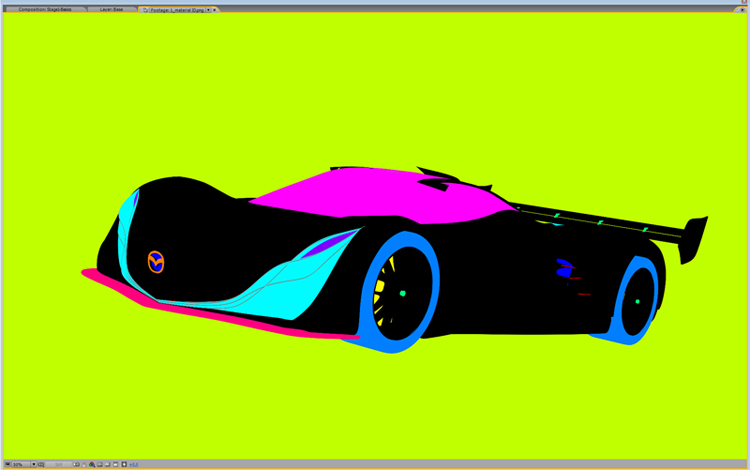 Image above is my Material ID pass. This pass will work as a mask. Each of the colours are representing different material. For example Black – Paint, Pink – Glass etc.


On this screen you can see my After Effect set up, as you can see it looks quite busy but believe me after you work with it and call every layer properly its piece of cake 😉 All of the material have their mask and colour correction. I usually divide my work on three sections.



Stage 1 – In here I'm fixing shaders by using curves or hue&sat. There is no over painting or something like that.
Stage 2 – Bug fix, sometimes mask can cause some bugs or if we don't have masks. We can create them in AE using pen tool or by simply rendering it in max.
Stage 3 – Stylizing well, this is most pleasant part of work. When all of shaders are fixed its time to look at studio. In this part we need sometimes to work a little bit more on render. In this case I have created here few mask using peen, and then by blurring corners and adjusting contrast/curve/hue&sat I have finished studio.
I didn't show my post production settings for each of layers simply because if you all will ever do renders this way, it is all up to you how will it looks and my settings wont work in your renders. 🙂


Well I think that is all. If you have any questions etc please contact me via email:
Dariusz1989 (at) gmail.com
(c) Dariusz M¹kowski, Dariusz1989 (at) gmail.com

Pages: 1 2