written by Rodny Mella
Hong Mei Li is a seductive lady with deadly skills. She can mask innocence at the same time secrecy. Clean-up after a kill is a painting done with Photoshop CS2.
Before I start the painting I usually prep my brushes. I don't really use special brushes just the ordinary brush presents in Photoshop. Occasionally I will mix new brushes depending on my painting need. As usual I start with 50% opacity and 50% flow for sketching.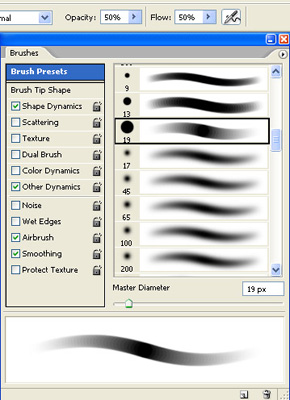 For this painting I will use dark color background. Then I make a new layer where I do quick sketching of the outline in white or any color in bright contrast. This will be my general guide and eventually it will take form as the painting progress.
Next step is color filling the drawing. Still having 50% opacity I made a new layer on top of the outline. I choose red for the qipao dress and light flesh for the lady. I applied it quickly like in speed painting, the reason I use dark backround is that while I paint over the character I can also see where the shade will go.
Whenever I am working on the details specially if it's a character I start with the head specifically the eyes. To maintain the color schematics I always place a color palettes beside the drawing.